Photos have become an integral element to our everyday lives. They record timeless moments. When we are in a public area or at home or in a private space, whether it's either a joyful moment or sad We take photos to keep as a memento.
Retouching your own portraits isn't easy. AILabTools Retouch Portraits is the top portrait editor that will improve and beautify your images online for free. What's more enjoyable than watching a no-cost online photo editor enhance images in a matter of seconds?
It's not just fast and automated, but it also provides the security of your data and there's no reason to be concerned about your private images being leaked to the Internet.
Table of Contents
There's no need to master complex AI brushes and other tools to edit multiple portraits that you have taken of yourself.AILabTools Retouch Portraits is an AI face retouching as well as photo beautifying software. It can make life easier and improve your most loved photographs quickly. AILabTools is able to soften your face, smooth your teeth, eliminate wrinkles, blemishes, and scars make your face appear thinner or tiny imperfection in the selfies you take and even apply makeup within a matter of minutes.
Through AILabTools, you are able to enhance your photos online for no cost however, if you wish to benefit from additional features, you can purchase a subscription that is monthly for $29.99/month or an $49.99/month subscription. Sign up for your AILabTools account today to receive credits for free and download high-resolution photos.
AILabTools PC offers a fully-featured desktop software created by AILabTools which lets you quickly process photos in batches with additional customization options that will significantly simplify the process and improve the efficiency of your work. Download
AILabTools PC Screenshot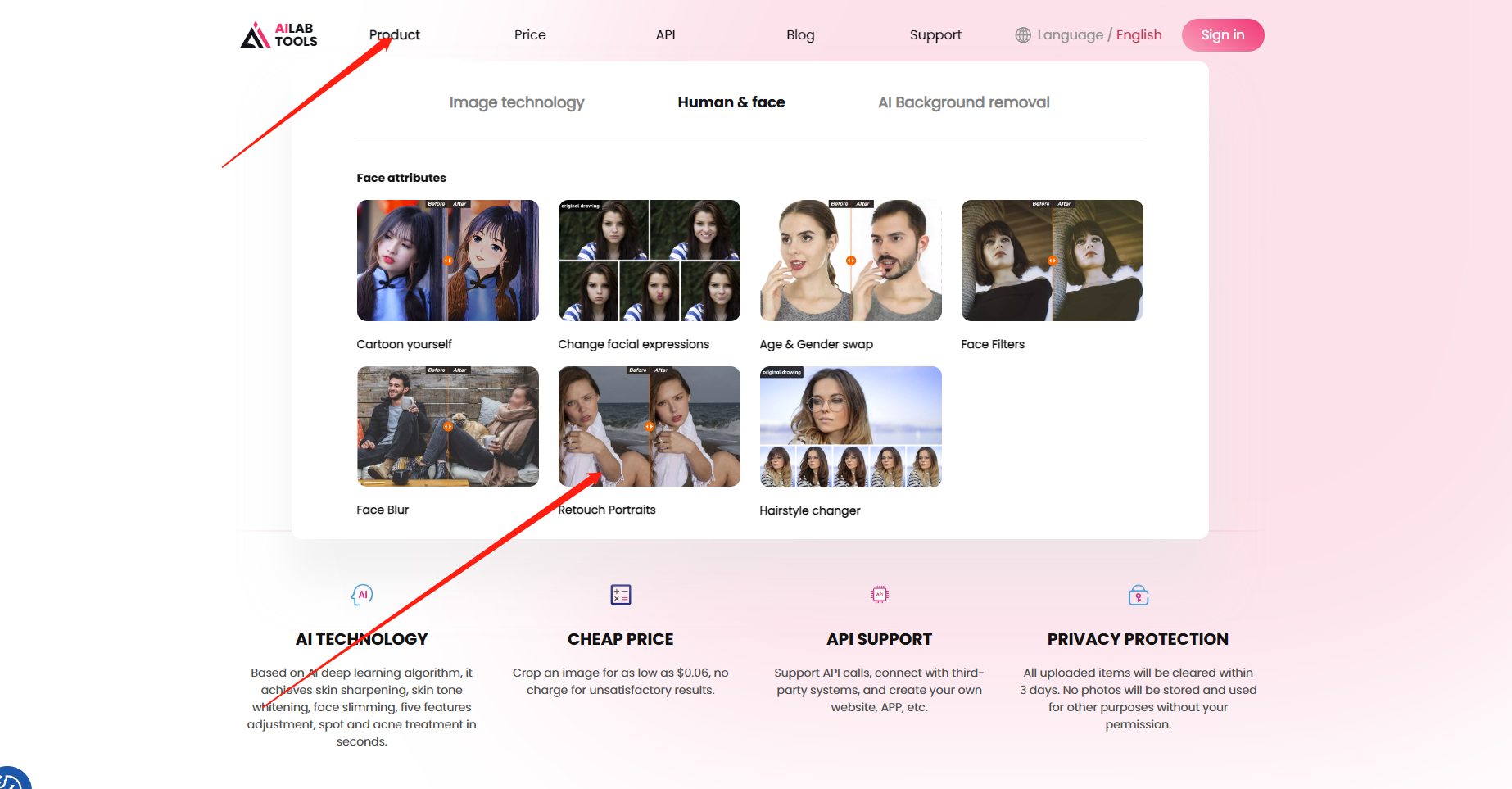 It's not necessary to be an expert editor to alter your photographs. With AILabTools which allows you to edit or enhance your photos and save them as precious memories.
AILabTools is a most-used photo enhancement application for a long time due to its easy user interface and excellent results.
Here are a few easy steps to follow so that you can take a look at this online free photo editor transform your images for you.
Step 1:Upload the images to the photo editor for portraits.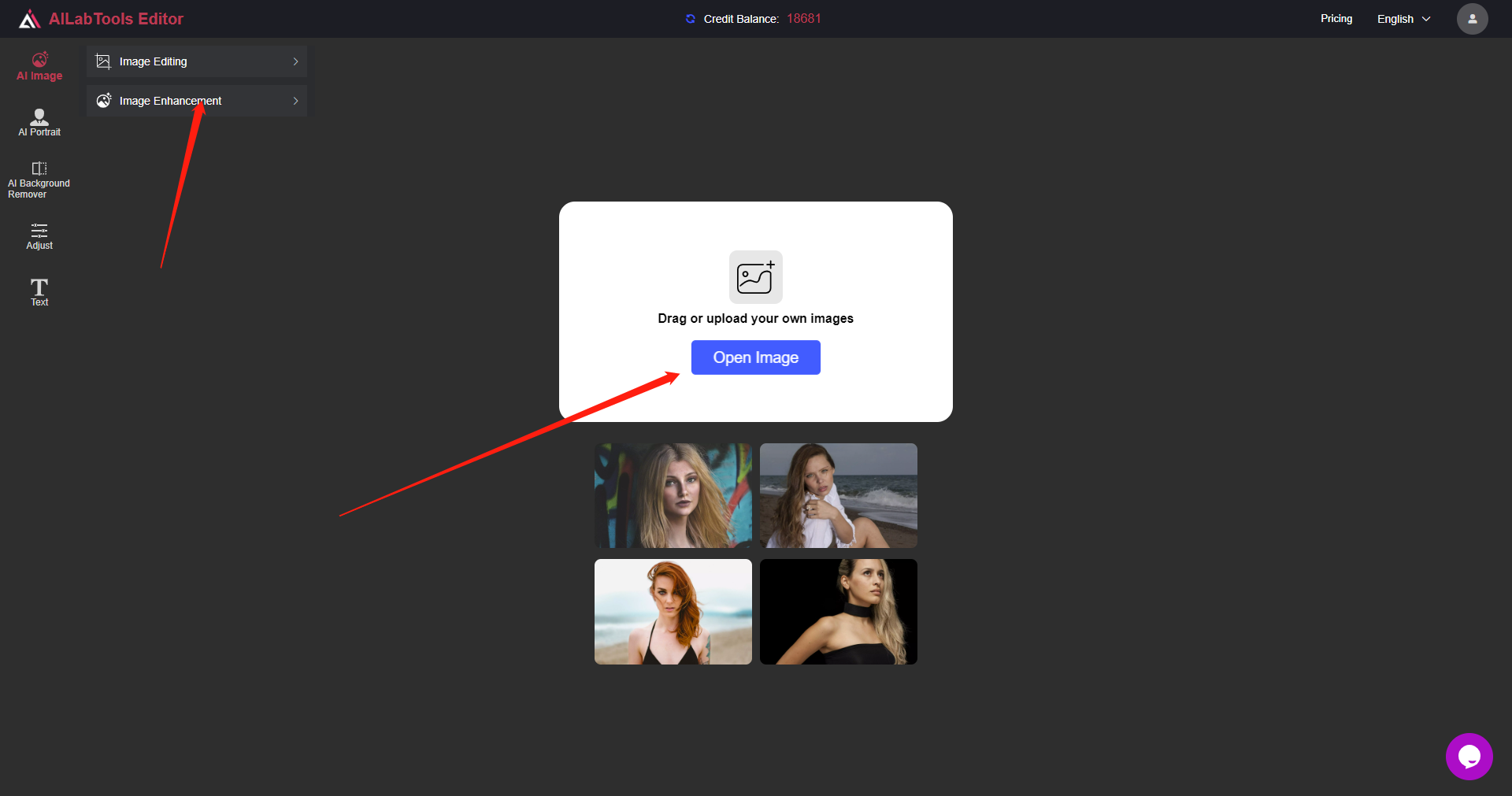 Visit the AILabTools website to find the AILabTools photo Retoucher. To begin editing your image Click on the upload button. The next window will appear right on the desktop.
If you're not a subscriber and you only have just one photo at a single time however, if you are a subscriber with an annual or monthly subscription then you can upload more photos and alter them using the portrait photo retoucher.
Step 2: Select the manner you would like to present your portrait and then begin to enhance your photo
AILabTools Portrait retoucher gives you many different ways of beautifying your face for face beautification, skin shrinking and smart make-up, and one-click beautification. You are able to choose how you'd like to begin making your portrait look more beautiful.
Step 3. Preview and download results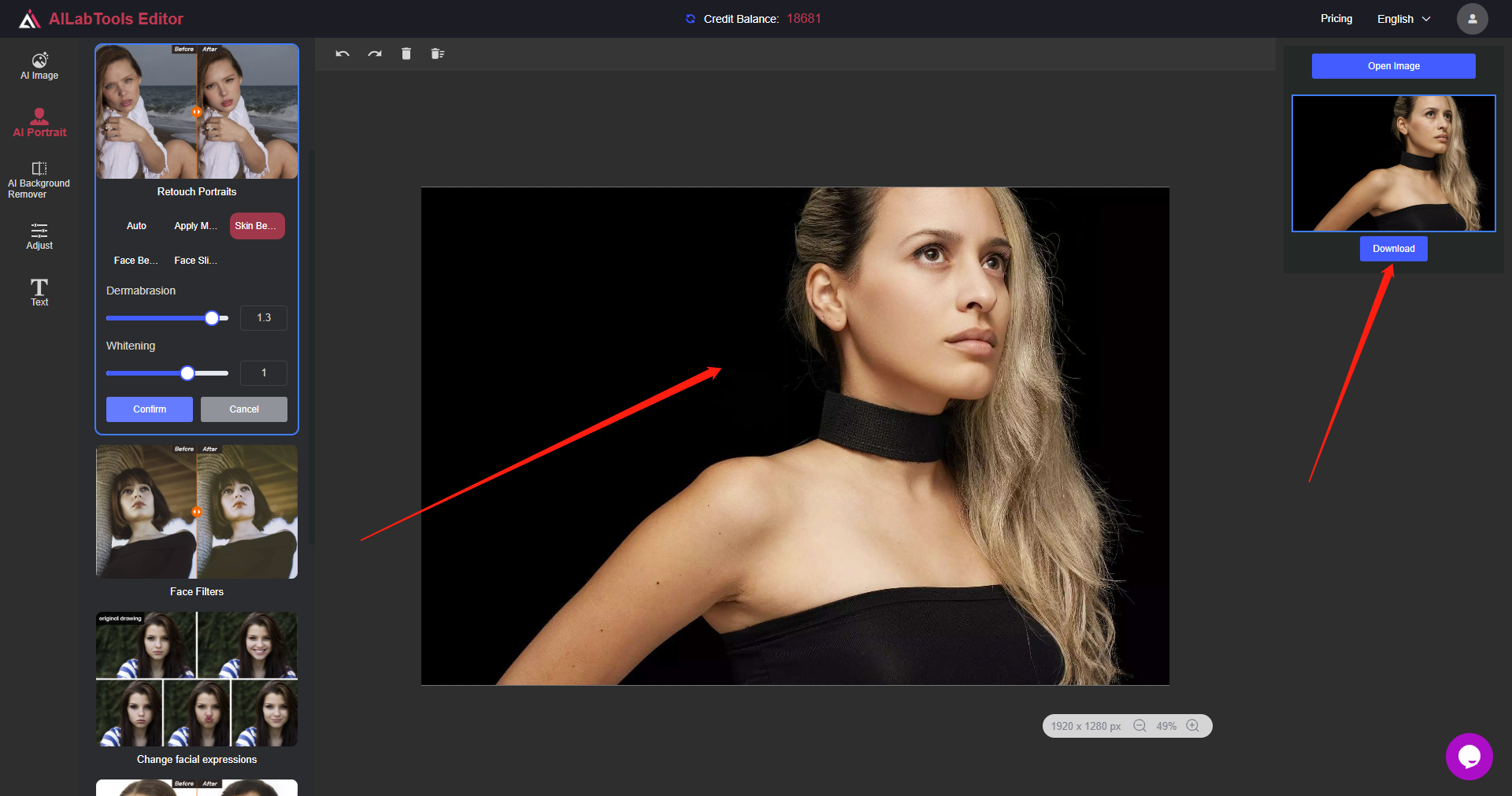 The time taken to process an image is based in the dimension of the photo as well as the resolution and quantity of images that are that are in the queue. In most cases, it takes less than 5 minutes to allow the AI to refine the photo and make it look more attractive by removing imperfections.
You can view the results or download it as a souvenir. If you are not satisfied, but it won't eat your credits.AILabTools guarantees data security and assures you of the complete security of your pictures. The images processed are removed within three days, and the entire process is simple which makes the use of the photo editor for beautification easy or even frustrating. After you've finished with the restoration of your portrait, if you are still looking to improve image quality on your photographs AILabTools Image Enhancer will be the best option for you.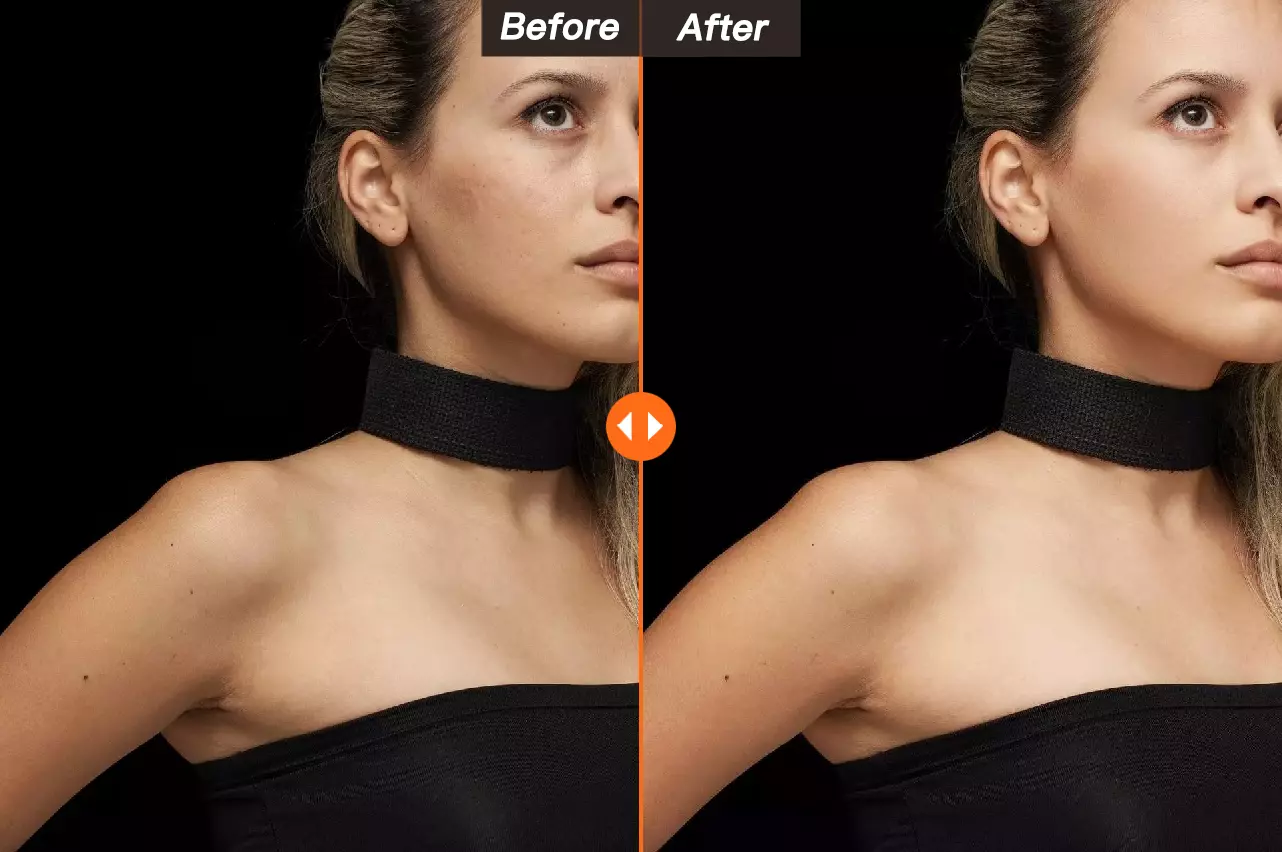 Performance of AILabTools Portrait Retoucher
It's not possible to take an exact selfie using your smartphone. There will always be imperfections visible in your photo that isn't edited and you certainly don't want to post your photos on social media. But don't fret, as you can watch online photo editors enhance your images in just a few seconds.
AILabTools can assist you in retouching your images online with only one click. With it, you'll be able to not only eliminate unwanted wrinkles, acne, and blemishes from your pictures as well as slim your face and apply makeup effectively for your photos. Artificial intelligence technology can polish your photos and portraits , and easily retouch them to the digital camera's quality.
AILabTools does not leave a customer unattended. If you have questions you may contact one of our agents via the chat window located at the end of the page or via email.
Here's a pre and post usage comparison to prove that AILabTools's Retouch Portraits is the most effective beauty photo editor that doesn't have costs or charges hidden behind the scenes.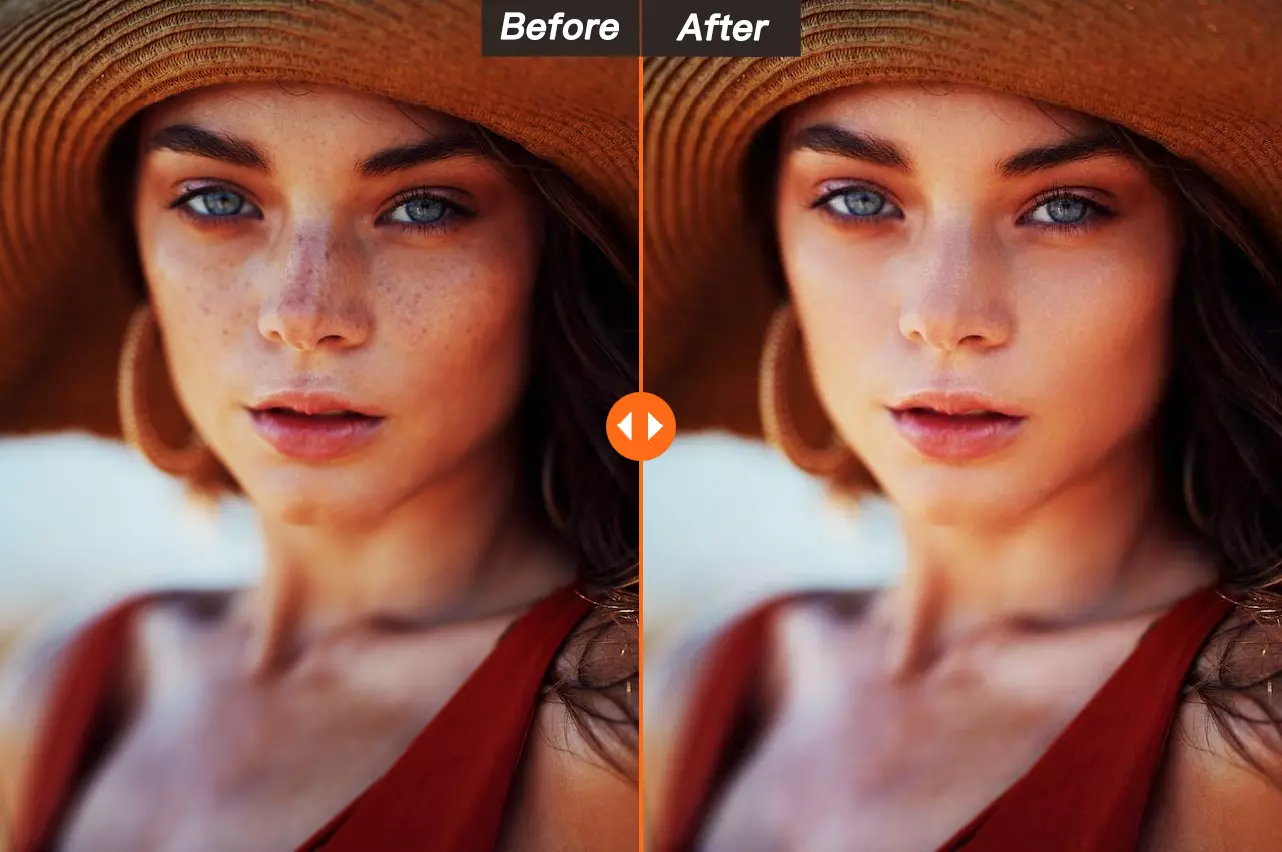 Summarize
The best editing software for your images can be challenging. With all the different applications, it is easy to be lost. AILabTools Portrait retoucher has been proven to be the most reliable online facial retouching software available.
You can upload your image to the editor, then beautify it according to your preferences and, with just a mouse click, your imperfections, wrinkles, and spots will disappear within one glance, or with a smart make-up and face slimming. Once you've mastered this incredible program with the palm of your hands, begin editing your photos, and then be confident in posting images to social media sites to share them with your family and friends.
Related: How to Create a Cartoon Portrait Online in the Best 5 Ways